Do You Have Lung Injury Linked to Vaping or E-Cigarettes?
Free e-cig Attorney Consultations
Bart Durham's e-cig attorneys explain how e-cig incidents can lead to injuries and damages. If you or a loved one developed lung disease after smoking an e-cigarette made by JUUL or another company, or if you or a loved one were injured or killed by an e-cigarette that exploded, our e-cig attorney is here to help.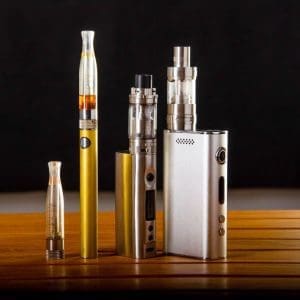 Are Vaping and E-Cigarettes Dangerous?
E-cigarettes are small electronic devices that people use to inhale an aerosol often containing nicotine. Many teenagers use them. Vaping means using an e-cigarette.
E-Cigarettes contain substances that are damaging or potentially damaging, according to the CDC. They often contain nicotine which can lead to addiction. Even e-cigarettes that claim to be nicotine-free may actually contain some nicotine.
Nicotine can also have horrible effects on developing fetuses if consumed by pregnant women, and some e-cigarettes, such as those manufactured by JUUL, contain as much nicotine as 20 cigarettes in every pod.
The CDC has reported 530 lung injuries and six deaths associated with e-cigarettes, many affecting young males. While the CDC has not identified the specific cause (whether there is a specific device, brand, or pod responsible for the illness), it recommends that people who are concerned should consider holding back from using these devices until doctors learn more. A lot of these cases reported using products containing THC.
According to the Los Angeles Times, "Last year, one in five U.S. high school students reported vaping in the previous month, according to government survey figures."
E-cigarettes have not been approved by the FDA as a device to help people quit smoking normal cigarettes. In fact, the CDC reported that, "There is some evidence that young people who use e-cigarettes may be more likely to smoke cigarettes in the future."
E-cigarettes can also overheat and explode according to CNN reporting. People have even been killed by them.
E-Cigarette Lawsuits
People have sued JUUL and other companies for allegedly marketing to teens and youth, as stated by The National Law Review. There have also been lawsuits over alleged exploding devices and failure to warn users of nicotine levels.
What to Do If You Smoke E-Cigarettes
The CDC gives several recommendations:
Consider refraining until more is learned about potential dangers.
Do not buy e-cigarette pods or other products off the streets.
Do not switch to normal cigarettes.
Do not use e-cigarettes if you're a young adult, youth, or pregnant woman
"Adults who do not currently use tobacco products should not start using e-cigarette products."
Our product injury lawyers are ready to help. If you or a loved one developed an illness after using a defective e-cigarette, you may be entitled to compensation.
Call an e-cig Attorney at Bart Durham Today
Talk to a doctor if you believe you were harmed by an e-cigarette. After that, call us immediately. Our e-cig attorneys have partnered with specialized mass tort litigation firms for the rights of people injured by products such as defective earplugs, potentially carcinogenic talcum powder, Xarelto blood thinners, and more.
We will help you determine if your illness was caused by e-cigarettes. We've defended victim's rights for more than 45 years in many types of cases. Our initial consultation is absolutely free, you won't pay a cent for our services unless you're awarded money first
Call our offices in Nashville at 615-242-9000 or Toll Free at 800-844-1712 to tell us about your case. Our law firm accepts cases on a contingency fee basis. We provide a free consultation and case evaluation. If we handle your case, you will not pay attorneys fees unless we are able to recover money damages in a settlement or trial award, if your case goes to court. Se habla Español.